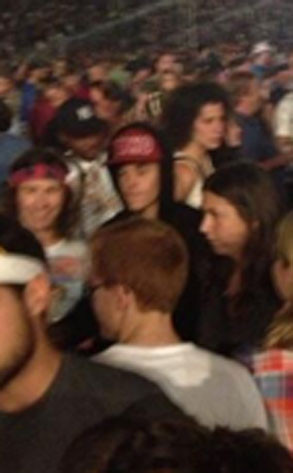 Twitter
No doubt about it: Justin Bieber's a Phishhead.
Two nights after getting accosted at a Toronto nightclub and having one of his gold chains jacked, the teen heartthrob opted for a friendlier crowd when he turned up in Commerce City, Colo., for Phish's summer tour closer at Dick's Sporting Goods Park.
Setting the gear shift for the high gear of his soul (as a classic song in the Vermont band's canon goes), Bieber hung out among the phans (in what looks to be general admission no less!) accompanied by his musical director and lead guitarist, Dan Kanter, as noted by Phish's lyricist, Tom Marshall, who broke the news.
"Sure looks like @dankanter and @justinbieber at last night's #Phish show in CO. No one got a better pic?" Marshall tweeted.