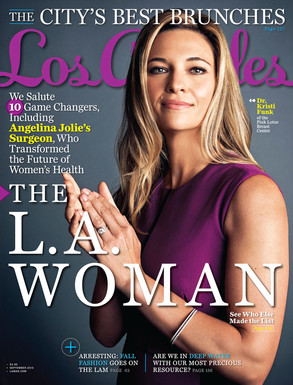 Los Angeles Magazine
Angelina Jolie inspired countless women when she announced she had a preventative double mastectomy, and now her doctor is opening up about the 38-year-old star's bold decision.
Dr. Kristi Funk of the Pink Lotus Center is featured on the cover of the September issue of Los Angeles magazine, in which she discusses Jolie's brave choice to share her story and the impact it had on the world.
"She is intensely private, but she calculated the moment when she would be ready to reveal something so personal," Funk, who performed Angelina's surgery, says of the stunning star (as reported by People).