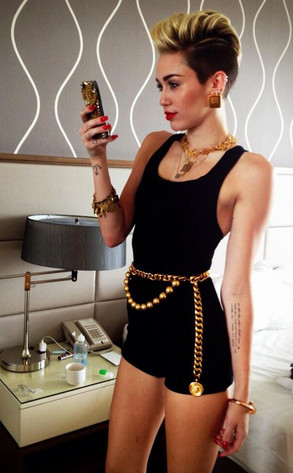 Twitter
Caught in the act!
Miley Cyrus couldn't get away with snapping a few sexy selfies as she got ready earlier today. A pal of hers took a photo of the blonde beauty checking herself out in her cell phone.
Cyrus tweeted, "Busted taking selfies."
The "We Can't Stop" singer was getting dressed to the nines in her hotel room in Miami this morning. She's gearing up to perform at Mackapalooza—a music festival that also features Calvin Harris.
Cyrus was wearing a black short onesie with a massive gold chained belt. She also rocked some serious layered gold jewelry, including a vintage Chanel bracelet from Rad + Refined.