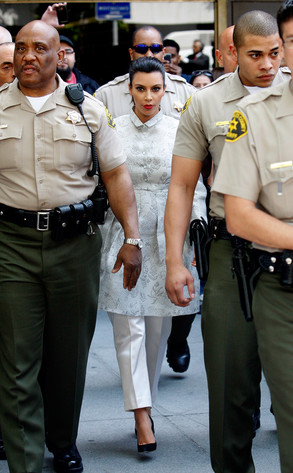 David McNew/Getty Images
UPDATE: Immediately following the hearing, Humphries' attorney told reporters that the divorce trial is still set for May 6.
Meanwhile, a hearing on whether to sanction Humphries' for today's no-show act has been set for April 19 and a motion-to-compel hearing related to the discovery process is set for May 2.
________
Kris Humphries went MIA.
Kim Kardashian's estranged ex was nowhere to be seen Friday at a mandatory hearing in Los Angeles required by law before their divorce case proceeds to trial. Both parties had been ordered to appear for the hearing when a judge finally set the date for their divorce trial.
Kardashian arrived wearing a long silver tunic over white pants, her hair pulled back in a high ponytail. She looked solemn sitting alone in the jury box.
Humphries' team of attorneys was present, and a source exclusively tells E! News that the Brooklyn Nets baller is claiming that there was purportedly a delay or cancellation of sorts with his scheduled flight to Los Angeles, hence the no-show.
The insider also alleges that there was no settlement agreed to prior to today's hearing.