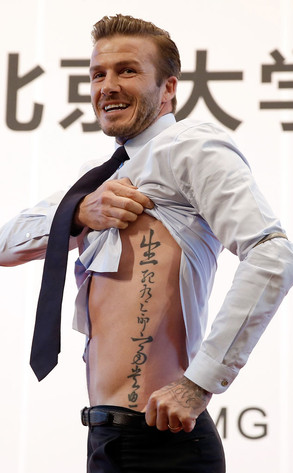 Lintao Zhang/Getty Images
You could commemorate your foreign travels with a keychain...or get a giant body tattoo in the country's native script.
Guess which David Beckham did? The British soccer—or, er, football—star was photographed showing off new ink to students of China's Peking University on Sunday. During his five-day visit as the country's first-ever international football ambassador, Beckham pulled up his pale blue dress shirt to uncover a series of Chinese hanzi script permanently etched down his side. The tattoo translates to "Life and death are determined by fate, rank and riches decreed by Heaven."

We see you, shirtless, insightful Beckham.