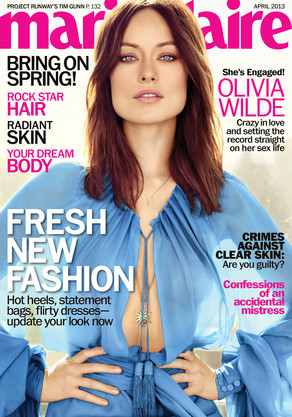 Marie Claire
Olivia Wilde is now 29 years old, and the brunette beauty cannot wait to embark on the next chapter of her life.
Namely, she's eager to marry fiancé Jason Sudeikis, and the Drinking Buddies star—who graces the cover of Marie Claire's April issue—opens up about the love of her life, crediting her 2011 divorce from Tao Ruspoli as the reason she finally found her dream man.
"I had grown up with Tao; we had just drifted. I felt I had something to prove," she says of her ex-husband, whom she met when she was just 18 years old and divorced after seven years together. "If you fall off a horse, you get back up. I am not a quitter. I hung on for as long as possible, until it was more hurtful to stay…I'm so grateful for the pain and the heartbreak. It gave me the courage to leave and brought me to the great love of my life."