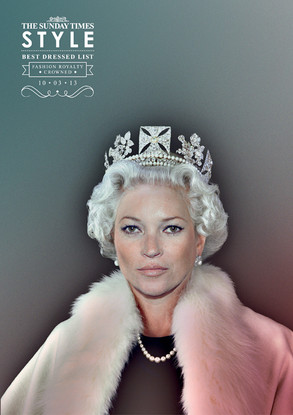 Grey London/ The Sunday Times Style Magazine
Victoria Beckham and Kate Moss have officially been crowned. At least, as fashion royalty.
The Sunday Times' Style magazine will soon unveil their 2013 Best-Dressed List and Grey London has created a campaign to promote the style stars, depicting the contenders as iconic British monarchs.
The 39-year-old supermodel is portrayed as Queen Elizabeth II in the regal pic—modeled after the famous Elizabeth portrait by Chris Levine—sporting a white coif, crown and pearls.