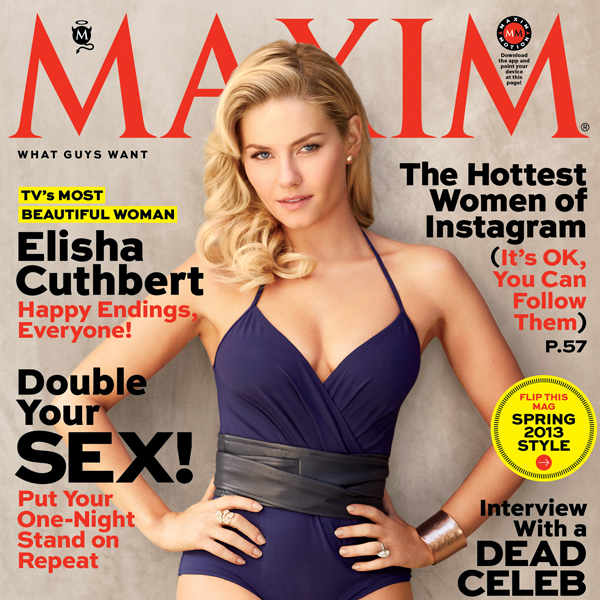 Maxim Magazine/John Russo
Elisha Cuthbert has a knack for making us laugh on the ABC ensemble comedy Happy Endings, but Maxim would also like to stress her other charms.
The 30-year-old Canadian actress has been named the magazine's TV's Most Beautiful Woman and appears on its March cover in a purple one-piece swimsuit.
It's an honor Cuthbert called "very flattering," though not before suggesting some other actresses who could easily fit the bill
"To think that one person could be the most beautiful when there's Kaley Cuoco, Sofia Vergara, Zooey Deschanel? They're all stunning," she told Maxim in an interview. "I'm not gonna fight anyone about it, though. I'll accept it with grace. But being on a show with two other beautiful women [Eliza Coupe and Casey Wilson], this is gonna make going to work very uncomfortable. I don't know, this might be a curse."
The actress, who shot to fame playing Jack Bauer's daughter Kim on 24 and has garnered kudos for her comedic work on Happy Endings, also opened up about her sex appeal in another one of her most well-known roles—that of a porn star in 2004's The Girl Next Door which ranks high up on Maxim readers' list of favorite characters.
"To be honest, I think one reason guys liked that character so much is because I didn't go fully nude," she said. "My character really could be the girl of every guy's dreams, instead of having them see her naked and going, 'Oh, that's not my thing.'" Remember Weird Science? Kelly LeBrock never got naked. She didn't show you everything. I think that's why it resonated with more men than it probably should have."
When asked what was her most memorable moment from filming at an actual porn convention for the movie, she recalled, "I had a lot of real porn stars tell me I was like their Julia Roberts from Pretty Woman."
"Nice sentiment, but, you know, a little awkward," she added.
Cuthbert got engaged last September to Toronto Maple Leaf's hockey star Dion Phaneuf. No word yet on a wedding date.