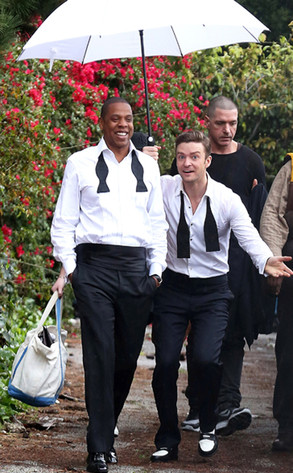 Raef-Ramirez/AKM-GSI
Justin Timberlake and Jay-Z have ditched the suit jackets and loosened the ties...for the moment.
The talented twosome behind JT's new "Suit & Tie" single were caught goofing around on the set of the video for the song, which appears to take seriously the need to dress right for a night out with that special someone. (Or perhaps a day out at the inauguration?)
Considering the years-long wait for new music from Timberlake, not to mention the molasses-slow rollout of related song sneaks, clips and whatnot, we're willing to be we'll see a few more bits of the behind-the-scenes magic before the video finally drops.
And we're all right with that.