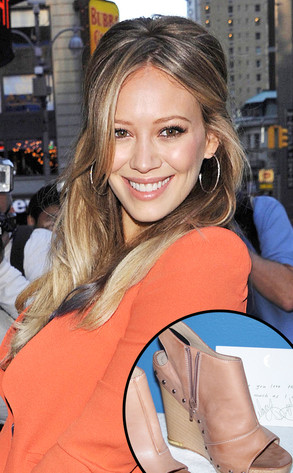 Bill Davila/startraksphoto.com; Ebay
Ever wonder what it would be like to take a walk in Hilary Duff's fashionable shoes? Well, thanks to the generous star, you may be able to do just that—literally!
The new mom has donated her fancy footwear to benefit the Lancaster Opera house, which is putting her sky-high shoes (we're talking close to five inches, people) up for sale on eBay.
So, even if the current bid of $495 for Duff's tan Jean-Michel Cazabat wedge heels may strike you as a bit steep for a pair of used shoes, you can always rationalize the splurge by knowing your dollars will go towards a good cause. Plus, Duff has autographed the soles of her kicks and included a signed note with her hot heels.