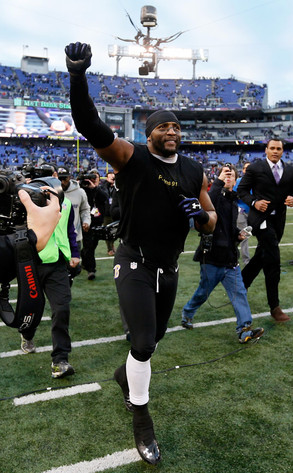 Rob Carr/Getty Images
There was Ray Lewis raging, Robert Griffin III limping, Marshawn Lycnh Beast-ing, JJ Watt Watt-ing and the deafening roar of another Green Bay "shh." We'll hit it all in a wild-card recap, where if you couldn't score 24 points, you either lost or you were Houston.
Seattle 24, Washington 14 – Next Week: Seattle at Atlanta
The showdown of dynamic rookies from dueling Washington teams—Seattle's Russell Wilson and Washington, D.C.'s RGIII—was upstaged by a vintage day of power running by the Seahawk's Marshawn Lynch, or as his fans refer to his bruising style, Beast Mode (though ESPN.com's Ethan Strauss nailed it vividly as "surfing while murdering sharks"). Lynch carried 19 times for 131 yards against Washington, including a 27-yard touchdown run on third-and-5 to put the Seahawks ahead in the fourth quarter. He also turned in the play of the game in the second quarter, with the Seahawks struggling to overcome an early 14 - 0 deficit, when Wilson fumbled on Seattle's 45-yard line. Wilson, who had trouble with snaps all day, managed to bat the ball away from a Washington defender on the ground towards Lynch, who scooped the ball with one hand, turned up field and gained 20 yards, turning a near-disaster into a big play that led to Seattle's first touchdown five plays later.