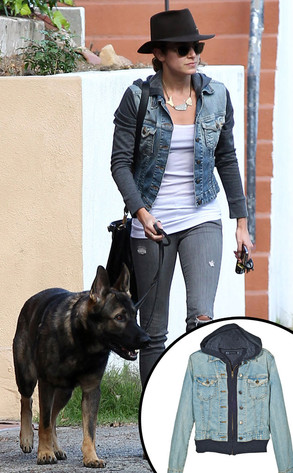 FameFlynet Pictures; Courtesy: JET
We're big fans of cozy, yet chic casual wear for our off-duty ensembles.
So, when we spotted Nikki Reed in a jacket that combined two tried-and-true downtime favorites—the always classic denim jacket and the reliably comfy sweatshirt—the weekend warrior in us just had to track it down.
Turns out the Twilight beauty's two-in-one topper is made by Jet and available online. Like Reed, we'd throw this jacket on for laid-back activities like walking the dog or running errands and boost its glam factor with a few choice accessories. Reed opts for a flashy fedora and striking necklace from her Mattlin Era jewelry line, but any bold bauble will do.