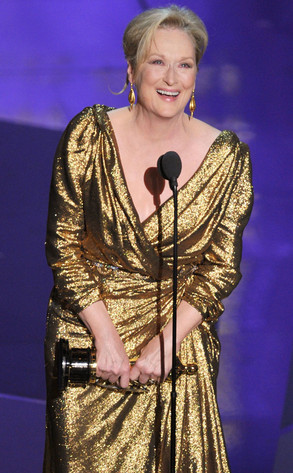 Kevin Winter/Getty Images
Don't think Meryl Streep's Academy Award for Best Actress is already gathering dust on the shelf.
One of Streep's three gold statues took center stage Saturday at the Women in the World Summit in New York City when she was introducing Secretary of State Hillary Rodham Clinton.
"This is what you get when you play a world leader," Streep said, placing her Oscar for her role as Margaret Thatcher in The Iron Lady onto the podium. "But if you want a real world leader, and you're really, really, lucky, this is what you get!"
Clinton then joined Streep on the stage, receiving a standing ovation from the crowd. But the Oscar winner wasn't the only gal who made the audience laugh...