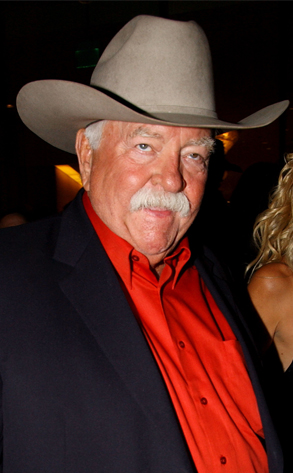 Mike Guastelle/Getty Images
John McCain's choice of Alaska Gov. Sarah Palin as his presidential running mate may be making history, but the decision was made at a cost that is yet unknown. Last week McCain named 73-year-old actor Wilford Brimley as a possible VP, telling the Associated Press, "he's a former Marine and great guy and he's older than I am, so that might work."
Now, with Palin firmly in place, insiders are concerned over the potential Brimley backlash.
"If Brimley withdraws his support, we could be losing a crucial segment of the aging, diabetic, Grape Nuts-eating vote," remarked an anonymous McCain strategist.
Brimley is scheduled to appear at the Republican National Convention this week, along with showbiz names like LeAnn Rimes, Angie Harmon and Chuck Norris. Whether the powerful pitchman will snub the gathering—turning his vast, curmudgeonly lobby against the candidate—remains to be seen.
"McCain looks, acts and obviously is very old, of course, but Brimley seems downright ancient by comparison," stated the source. "We need that gruff, get-out-of-my-yard-kids attitude to keep a stranglehold on the cranky-senior vote. I mean, if Brimley wanted to get the Quaker Oats guy elected, he could probably do it."
Brimley's temper is legendary, of course, and our source knows it. "If Wilford plays the bitch card, this could be a tough election for us."