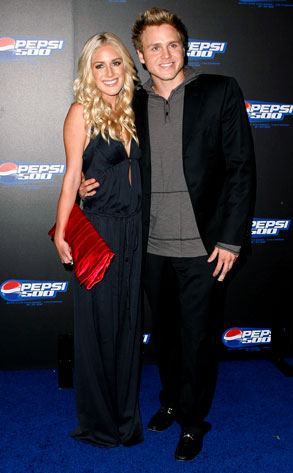 Michael Buckner/Getty Images
We caught up with the reigning dumbfounded duo this week at the Pepsi 500 NASCAR party at H'wood's Avalon, and although the bash had squat to do with reality TV, bitchy back talking or living in luxury without having to work a real job, Heidi Montag and Spencer Pratt were there, promoting their existence to the crowds.
Naturally, we were intrigued as to what was goin' on in their little peroxided brains. Let's see how this dippy duo does off the MTV cameras, shall we? Politics are as popular as The Hills this year (and just as realistic). We know the gun-totin' twosome are pro-Republican, so what would ya tell Hillary to convince her to vote for McCain?
"I don't know what I could tell Hillary," durred out Heids.
What's that? No arguments for the presidential candidate you're endorsing? OK, let's try an easier one: Tell us about your dream wedding?
"Mine involved unicorns flying around," said Ms. Montag. "You know, a huge wedding with white everywhere."
Guess you drew your inspiration from Lisa Frank Trapper Keepers growing up? We wouldn't be surprised in the slightest if you wanted teddy bears as your groomsmen and Malibu Barbie to be your maid of honor. Mushy more: