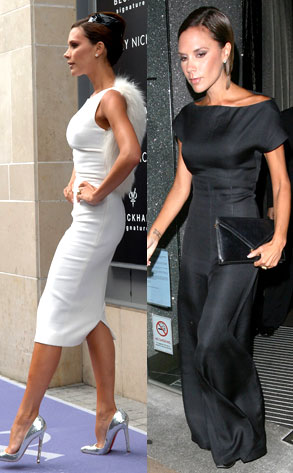 WENN, Shirlaine Forrest/Getty Images
We've probably mentioned a few times on this blog that we love Posh Spice. She's fierce, sassy, has way adorable kids and usually we can get behind whatever crazy outfit she pulls out of her closet.
However, on the other side of the love scale is, of course, the things we hate. And on this hate scale you'll hit jumpsuits. So what do we do when someone we love wears something we detest so much?
Well, we just have to let it go—you can't win every outfit.
But what happens if on the same day as the jumpsuit incident, this person wears a completely respectable white dress with a cute headpiece but attaches a polar bear rug to her back?
This is where it gets tricky...