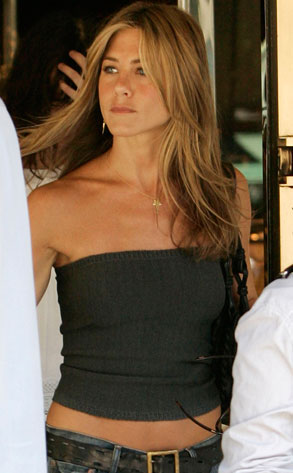 BAUER-GRIFFIN.COM
Just a few months (trust us on this) out of the dating game Jen Aniston already has a new man interested in her. Sure, he's twice her age and married, but beggars can't be choosers, can they? Jenny and Woody Allen have shared private time in Bev Hills—now, should Soon-Yi be worried, or ScarJo? Scuttlebutt on the T-town streets is Woods wants to cast Ani-babe in his next flick. No better way to brush off a broken relaysh like showing the world—in a pap-friendly hang city, no less—that you're still a wanted woman, especially desired by every H'wood actor's wish-list director.
Jenny could stand to class up her act again after dating doofuses like Vince Vaughn and Mayer—and starring in failures like Rumor Has It and Friends With Money. The Woodster's next film is rumored to be a romance, like Ani-babe could do anything besides play a romantic lead. Then again, let's give the girl some cred—she was terrific as a terrified teen in Leprechaun.
In fact, let's give Woody a break and write the movie for him, OK? Jennifer Aniston stars as a neurotic single New Yawker who plots the murder of her ex and his beautiful new brunette babe, who happen to live in the high-rise space above hers. She teams up with her landlord, an old Jewish type with black wire-framed specs (W.A.'s supporting part, natch) to sneak into their apartment and murder them by blowing off their impossibly beautiful heads. But things go awry when Jen and her old-man accomplice fall in love, despite a 70-year age difference.
They see a lot of black and white movies, eat too many enchiladas and drink a butt load of wine, and there's a scene where Jenny kisses Courteney Cox in a quick cameo—not because it has anything to do with the plot, but as a way to get people to see the movie. It ends with Jen and her BF breaking up, as most of J.A.'s relationships do, duh. Art imitating life, as always.
—Additional English-screwin' reporting by Becky Bain