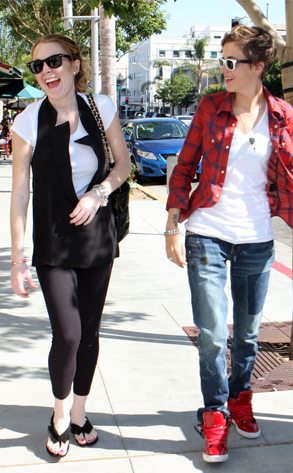 CAD/Fame Pictures
Lindsay Lohan and Samantha Ronson took a break from all the fun they've been having lately to address comments Michael Lohan made in an E! News report about Sam planning to pen a tell-all book.
Earlier this week, he told us, Sam's "using my daughter. People never even knew who Samantha Ronson was until she met Lindsay. She was just some L.A. DJ."
Not cool, Mike, according to Linds' blog: "He has become a public embaressment (sic) and a bully- To my family, my co-workers, my friends, and a girl that means the world to me (its obvious who that is)." His motivations are pretty obvi to her. It's all because of "an ADDICTION THAT HE HAS- FAME."
Poor Linds was so upset she was even listening to her daddy-issues anthem "Confessions of a Broken Heart,"according to her MySpace profile. Probably on full blast while destroying an innocent room. Sam blogs after the jump...