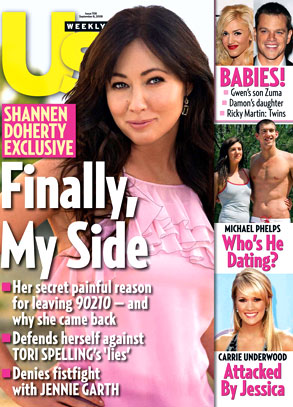 UsMagazine.com
Shannen Doherty is Hollywood's original bad girl, but you wouldn't know it from the press she's doing lately—especially the latest Us Weekly cover story in which the actress insists she's found an "inner peace" and refuses to comment on her turbulent relationships with her former 90210 castmates.
This is not the exposé we Doherty devotees expected. Seriously, not even a tiny spat with her reunited costar, Jennie Garth? Au contraire, says the "grown up and evolved" Shannenbot.
What is going on? In her day, ShanDo put the antics of Young Hollywood to shame...