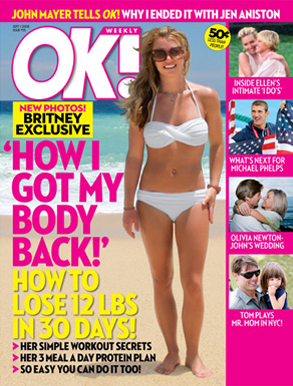 OK! Magazine
With all the ogling at Britney Spears' fabulous physique has come the seemingly requisite question whenever celebs lose weight: "Gee, how did they do it?"
Sure enough, the pop star reveals just that in the latest issue of OK! magazine, talking about how she's cut out sugar and that her meals consist of things like chicken, salmon, rice, avocados, egg whites and turkey burgers.
"I try to do just 1,200 calories a day," says Brit, who also happens to work out five days a week. "It may sound like it's not much, but it's actually a lot of food if you eat the right things."
Valuable information indeed. Not that anybody out there is really going to use it, but valuable nonetheless.