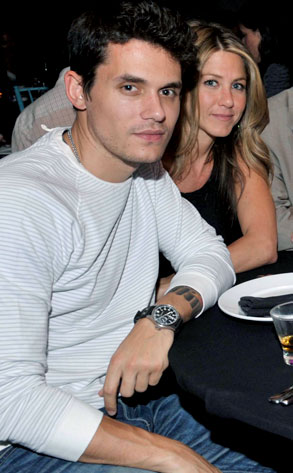 AP Photo/Lisa Rose
• Today in Mayer-Aniston breakup gossip, John reportedly dumped Jen via text. If you have your own fun deets you'd like to add, please leave it in the comment section. Winner gets a high-five from Angelina Jolie.
• Ellen blogs about her wedding, writes it was "all a blur." So be sure to tune in to the new season of her show Sept. 8 and pick up your copy of People!
• Ryan Gosling and Rachel McAdams are said to be totally dating once again! See, love does conquer all.
• Can someone please explain what's going on with Christina Aguilera's new perfume ad?
• Madonna celebrated her B-day with "crack baby" shots—that's vodka and champagne. Is it too early for one of those?
• PETA decided to get in the middle of the Hogan divorce. Ugh, we can't decide who's more annoying—the Hogans or PETA.