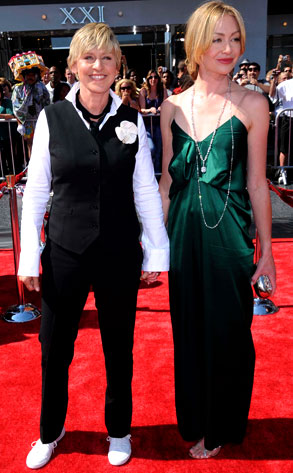 AP Photo/ Benkey
Ellen DeGeneres and Portia DeRossi have become lawfully wedded wives.
Capitalizing on the recent switcheroo in California law, the longtime loves swapped vows Saturday in front of family and friends at their Beverly Hills estate, E! News has learned.
A small group of less than 30 wedding guests, all dressed in summer formal attire, started arriving at Ellen's posh $29 million abode Saturday evening at around 6:30 p.m. PT.
"It was all close friends and family," said a source, adding that no celeb guests were spotted entering all day.
DeGeneres, 50, and de Rossi, 35, have been an item (not to mention paparazzi magnets and an adorable red-carpet couple) since December 2004. On May 15, the day after the California Supreme Court struck down a ban on gay marriage by ruling it unconstitutional, DeGeneres announced on her talk show that she and de Rossi were planning to tie the knot.
The audience, which included her smiling Australian-born partner that day, responded with a standing ovation.
"I'll tell you who the lucky guy is soon," DeGeneres added, never missing a beat.