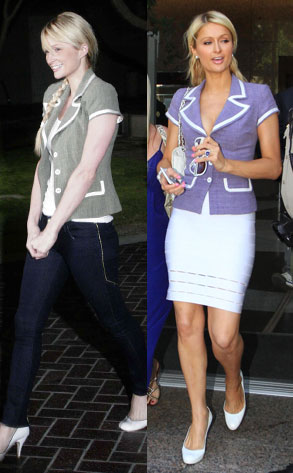 Matthew Simmons/Wireimage; INFPhoto.com
Call it her legal look?
While covering the attack on Paris Hilton and her boyfriend outside a Van Nuys courthouse yesterday as the two prepared to testify against an alleged home intruder, we couldn't help but notice that the lilac jacket she wore appeared vaguely familiar.
And then it dawned on us that she wore the exact same-styled jacket, albeit a different color, as she happily made her way out of the Century Regional Detention Facility back in June of 2007 after serving time for violating her probation in an alcohol-related driving case.
Sure, it's been nearly four years, and it's certainly no Camille Grammer faux pas, so maybe we should cut the girl a break for essentially repeating herself. Then again, this is Paris we're talking about. Shouldn't she know better?