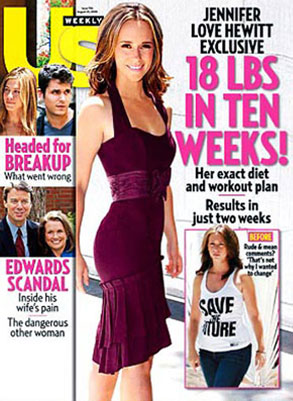 US Weekly
Late last year, the Internet started calling Jennifer Love Hewitt fat, and she got mad. So mad she blogged an empowering cry to women everywhere with "butts, boobs, hips and a waist" to "put on a bikini—put it on and stay strong" and then landed a People cover under the headline "Don't Call Me Fat."
At the time, J.Love believed women's bodies shouldn't be scrutinized because there's more to a person than that.
But you can forget all that. Now, she would like you to admire her body because she lost 18 pounds in 10 weeks!
So go ahead, give her new body a look over and tell her how slim she is, because now you're allowed to scrutinize.