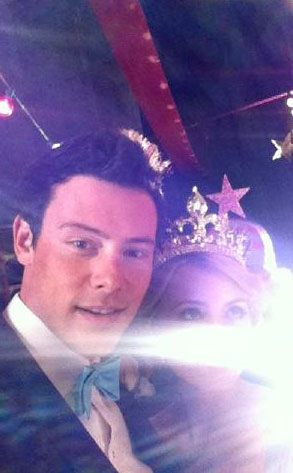 Twitter
Could Glee be redoing the prom episode to change up the king-queen leak?
After Cory Monteith tweeted the tantalizing, damage-controlly photo at the left featuring Dianna Agron in a tiara, we got an answer from one of our favorite Glee stars about the show's prom filming plan!
Plus, which fan-fave NBC comedy twosome are going to have a surprise liplock? Which Grey's Anatomy relationship might not be flawless yet, despite a happy day in the couple's future? Who's looking suspicious now on The Killing? And which cable dramedy is making a three-year leap forward when it returns this summer?
We've got answers to all those burning fan Q's and much more in this week's all-new TV spoiler chat: