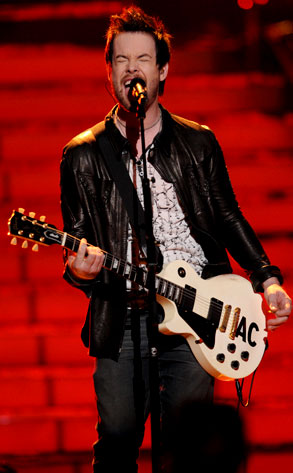 FOX
At the Tropic Thunder red carpet, ex-American Idol producer Nigel Lythgoe didn't seem all too sad to wave buh-bye to the Fox cash cow—much happier to promote his competish So You Think You Can Dance? instead.
Still, we've got a sweet tooth for singers, and all we wanted was some Idol dish. So, Nige-babe, will you pick up your phone and vote now that you don't work for the show? "If there's somebody on it that's good," said N.L. "Just like the rest of America, if they're not good, I won't vote for them." Damn, far too democratic there, dude. Let's try again:
You've overestimated the U.S.—how else do ya explain Sanjaya's sixth-place existence on the show? Reasoned Lith: "I have voted when I was the executive producer." Oh, really? So which David didya favor this last season? "Cook," he stated, without a moment's hesitation. This guy's got sense—sorry Archuleta fans, the tiny teen's always been way too saccharine for our taste.
So, Mr. Reality Show, what else ya got in the works, anything ya wanna let us in on? "I may," Nigey slyly sassed with a laugh. "I'm not saying anything until it's fully developed and out there. Reality shows are so easily stolen." Righto, Lythgoe, some are. But anyone out there wanna take credit for reality wrecks The Littlest Groom or Kid Nation?
Thought not.