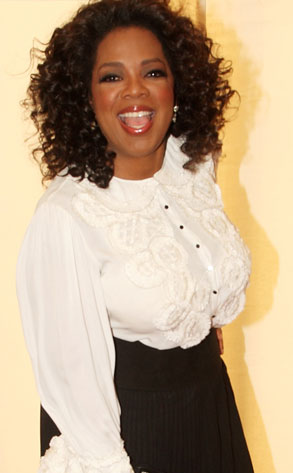 Dave Hogan/Getty Images
Oprah is such an interesting woman. It seems the bigger she gets, the more benevolent she becomes, right? 'Cause those bitchy Hermès days seem more associated with her still-struggling-to-diet times, right? Just a thought, that's all.
But look, Ms. O—whom Barack Obama owes his likely presidency to, in my unhumble opinion—just took all her top Harpo (Oprah spelled backwards, remember, for all you self-obsession cops out there, and I know there are leagues of ya) peeps to the exclusive Hawaiian isle of Lana'i. It's just a skip and a private plane ride over from Maui, where Ms. O has bought up heaps of estates and sacred land. She's the Trump of the tropics, babes, we swear!
So O-hon spent buttloads on grub and food, posh table settings, glam meals spread out right on the ocean, like it was some friggin' five-star picnic or something. There were printed menus with "Harpo" smacked on top, and then every little goodie which would be then going down your lucky gullet was listed below. O-babe was festive in white and florals, and a darling flowery hair band to match. Huge hoop earrings made her look just too beach mod, ya know. Was fab for everybody.
And who was the lucky gal or gent who got to be O's date? What equally beautifully coiffed being helped cohost this overindulged affair? Stedman? Gayle? Barack? (He certainly gets around—on planes, that is). Nope, nope and nope. "It was her cocker spaniel," spilled one of the lucky feted ones. Oh dear, Oprah. Babe-poo, you're rich as effin' sin, couldn't ya find a little lovin' to help ya giggle in all the right places? You so deserve it!