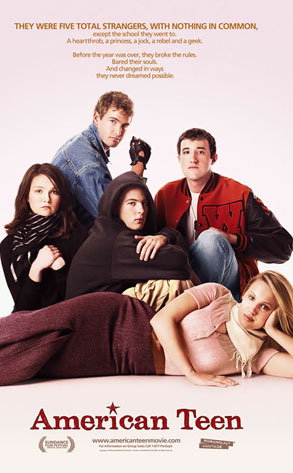 Paramount Pictures
At the Tropic Thunder fete, we spoke to the stars of the American Teen doc—the filmed version of The Hills, ' course, if The Hills in any way resembled a real teenager's life. Think real high schoolers have time to bitch 'n' chew at Les Deux all the livelong day?
So which proved more difficult, filming the doc or just getting through this madhouse PR parade? "This whole experience is a lot more demanding," said Jake Tusing, the tiny, token nerd of the Breakfast Club-going bunch. "Filming the documentary, all we had to do is be ourselves, that's about as easy as it gets. But here, we have to talk to everybody, and that's not really my personality type. I've had to open up more and pretend like I'm more confident than I am, and it's starting to wear on me."
So sorry, Jakey. Just doing our job, here. Let's give you a breather and move on to Mitch Reinholt, the so-called high school heartthrob. "I have a newfound respect for actors and all the stuff they have to go through," said Mitchie about doing press for the pic. "Talking about the same stuff over and over—it gets pretty exhausting." Life's hell, eh?
So T.T.'s a war flick, despite the jokes, which one out of the lot of ya has the best chances of surviving in the jungle? "[Mitch and I] could fight for our lives," said sports champ Colin Clemins. Mitchie-babe, howevs, begs to differ: "Just me." Pitch-perfect casting for the cocky all-American dude, doncha think?
And who would survive an even larger wasteland than a jungle: Hollywood? Without a moment's hesitation, all hands point directly to popular princess Megan Krizmanich. "I'm tough!" claimed the Molly Ringwald type. Ya gotta be, to make it out of H'wood alive, trust. More on those old sluts Robert Downey Jr. and Tommy Cruise later today.