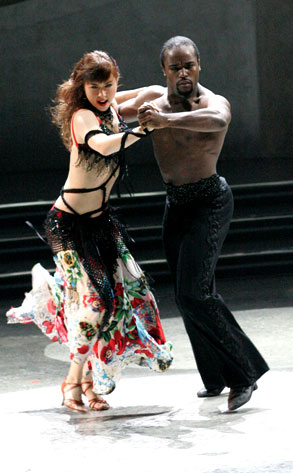 FOX
Tonight's So You Think You Can Dance finale was insane, was it not?
The Russian street dance, the jive with flips and lifts, the high-energy Mia Michaels Scottish-inspired cardio blast. I'm no longer surprised that two of them collapsed and went to the hospital this week. I'm amazed any of them survived.
They all worked incredibly hard and they all deserve it. Still, in my mind, one of the final four does deserve the win a little more than the others, so I'm actually going to call and vote for the first time this season tonight. (By the way, the one I thought I would be voting for tonight didn't do as well as I'd expected, sadly.)
You? What did you all think of the performances tonight? Did a clear winner or loser stand out? Vote below in the poll and defend your favorite in the comments...
P.S. We'll have more for you either late tomorrow night or Friday. I'm going backstage with a camera crew tomorrow night to get all the scoop on the live finale results show, with interviews and reactions from the winner and runners-up. (We also have new final-four interview clips in the player at right, if you missed them earlier today.)
Now vote and comment! For real!