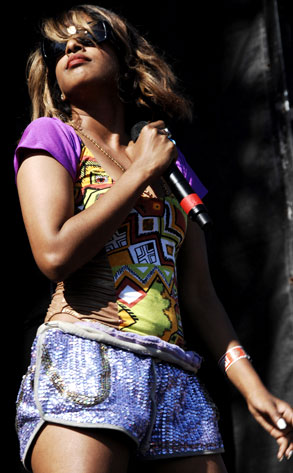 Kevin Mazur/Getty Images
I really like that M.I.A. single "Paper Planes." But I hear she supports terror. Is that true? Is she a terrorist?
—Mela, Los Angeles
Don't bother trying to catch MIA at the border. Haven't you seen the Pineapple Express trailer? She's got papers in her name!
For the record, M.I.A., also known as Mathangi "Maya" Arulpragasam, is a Sri Lankan ethnic Tamil who spent much of her childhood in England. Her father is credited as a cofounder of a militant pro-Tamil group EROS, which, in turn, was once linked to the Tamil Tigers. The Tigers have been labeled a terrorist group by many countries, including the United States.
In a 2005 interview, M.I.A. was adamant that she doesn't support terror.
''I've heard lots of people say that I'm part of a terrorist group and I'm singing about that, and singing songs for them, but that's wack, I'd never do that," Arulpragasam told the Australian paper The Age.
But that denial hasn't stopped other people—including fellow musicians—from attacking M.I.A. as a violence-loving bomb hugger. Find out who's doing the accusing—and why they might have a point—after the jump.