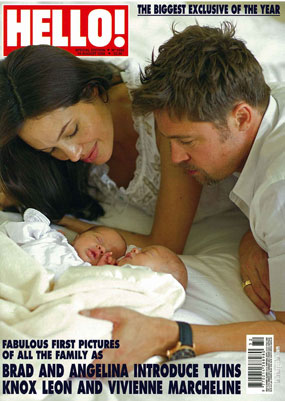 Hello Magazine
After the reported $14 million charity payout to parents Angelina Jolie and Brad Pitt, maybe little boy Knox will become known as Fort Knox, but he and his twin sister Vivienne sure look cute and a half on the cover of People magazine. The issue hits newsstands tomorrow, but you can catch a tease of the 19-page spread here.
"It is chaos, but we are managing it and having a wonderful time," Jolie tells People.
We think this may be the best celebrity baby magazine cover ever. Let us know if you agree in the comments section. And compare how they stack up in our Best of Celeb-Baby Magazine Covers gallery below.