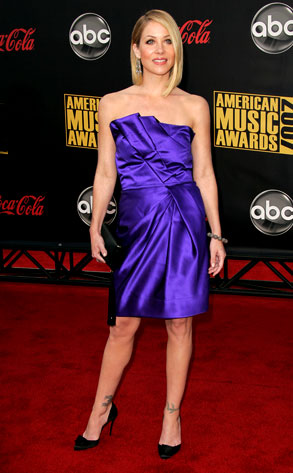 Lisa O'Connor/ZUMA Press
Here's to a speedy recovery.
Christina Applegate has been diagnosed with an early form of breast cancer, according to a statement released Saturday by the actress' rep.
"Benefitting from early detection through a doctor-ordered MRI, the cancer is not life threatening," publicist Ame Van Iden said. "Christina is following the recommended treatment of her doctors and will have a full recovery.
"No further statement will be issued at this time."
The 36-year-old Samantha Who? star is set to appear Sept. 5 alongside Meryl Streep, Jennifer Aniston, Scarlett Johansson, Charlize Theron and Sally Field at the Stand Up to Cancer telethon, which will be broadcast simultaneously on CBS, NBC and ABC.
A few weeks later, Applegate has a shot at her first Emmy for lead actress in a comedy for her role as a well-meaning amnesia patient who's avidly trying to make amends for her rotten, pre-amnesia self.