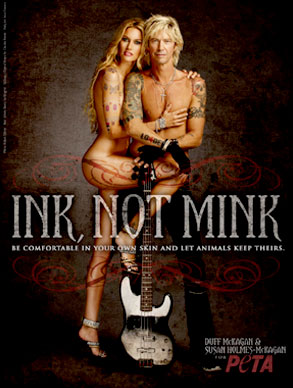 Peta
Welcome to the jungle. Just leave its inhabitants alone.
Married to Rock star Susan Holmes McKagan and her Guns N' Roses hubby Duff McKagan can be seen on the E! show's Dec. 19 episode shooting a new PETA ad, but we have the end result of that photo session for you right now.
Wearing little more than the tattoos that adorn their bodies, the couple strikes a sexy pose to help make a very serious point.
"Ink, Not Mink," the caption reads. "Be comfortable in your own skin and let animals keep theirs."