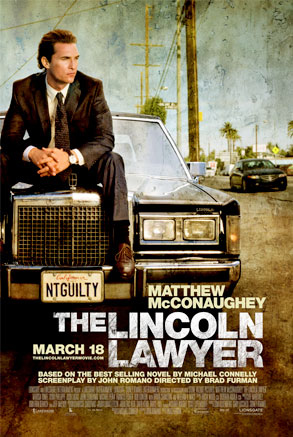 Lionsgate
If you prefer your Matthew McConaughey talking defense strategy in a suit and tie, then consider The Lincoln Lawyer the perfect antidote to Fool's Gold.
Back in A Time to Kill mode, McConaughey plays Mickey Haller, a smooth-talking attorney who conducts business in his chauffeured Lincoln Town Car—the better to have his hands free to accept cash-stuffed envelopes from clients, of course!
But as this exclusive look at the first promo poster for The Lincoln Lawyer (www.thelincolnlawyermovie.com) suggests, McConaughey's got a lot of thinking and value-reconsidering to do after agreeing to represent accused rapist Ryan Phillippe, who ends up having more to hide than Mickey bargains for.
Or can fit in his trunk.
Marisa Tomei, William H. Macy, Josh Lucas and John Leguizamo also star. The film is due out March 18.