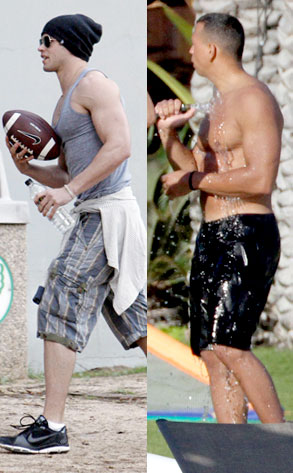 RAMEY; Bauer-Griffin.com
From the Rack Report to the Gun Show—how do these super studs stack up with our Fashion Police panel? Well, it ain't pretty.
While Giuliana says she wouldn't kick Kellan Lutz out of bed, George points out these pecs have nowhere to go but down. And Joan's got nothing nice to say about Lutz's "hideous" cargo pants. "What's he been in beside a lot of Disney starlets," she quipped on Friday night's show.
A-Rod doesn't fare any better. "He's got bigger boobs than I have," said Kelly. As for the Yankee's track list with the ladies—Cameron Diaz, Kate Hudson, Madonna—nobody is impressed. "He's too much of a player...I'm done," said Giuliana.
Obviously this over-the-top grooming (and gym grunting!) isn't getting our TV hosts hot, but what's your verdict? Weigh in below!