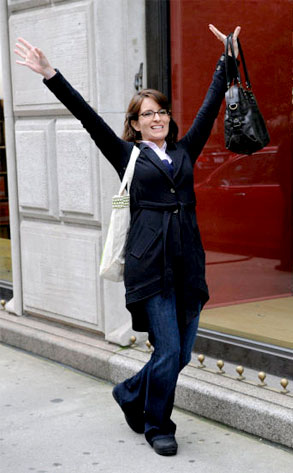 NBC
It's not exactly surprising to learn that Tina Fey is about to become the recipient of yet another prestigious comedy award.
What is surprising is that she's the third woman and youngest person ever to do so. And that she beat a certain zeitgeisty octogenarian to the podium.
"I am truly thrilled to receive this honor," Fey said. "I assume Betty White was disqualified for steroid use."
The honor in question is the Mark Twain Prize for American Humor, which the 30 Rock star will pick up at the Kennedy Center on Nov. 9. She becomes the 13th funny person to be honored, joining Steve Martin, Whoopi Goldberg, Lily Tomlin, Bill Cosby, George Carlin, Billy Crystal, Jonathan Winters, Bob Newhart, Carl Reiner, Richard Pryor, Neil Simon and Fey's former SNL overlord Lorne Michaels.