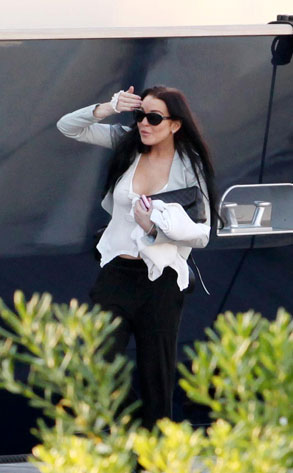 RAMEY PHOTO
Lindsay Lohan partied away her legal woes in Cannes until the early hours of Friday morning.
The VIP Club was the place to be, hosting the Artists for Peace and Justice Benefit. Lohan and celebs like Russell Crowe, Gerard Butler, Paris Hilton, Elizabeth Banks, Mischa Barton and Michelle Rodriguez mingled in a roped-off area on the second floor, ostensibly to raise money for Haiti. And in LiLo's case, raise the roof.
"Lindsay was drinking Dom Pérignon, Cristal Roederer champagne and Belvedere vodka," confirms club rep Laurent Guyot. "She had a great time. She was dancing on the banquette and laughing and joking with her friend."
And that was just her warm-up.