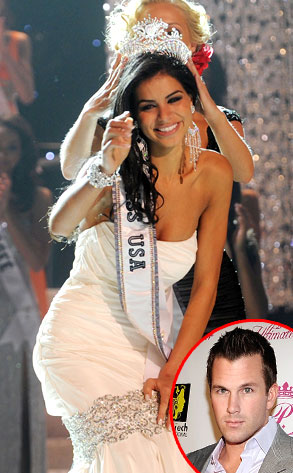 Denise Truscello/WireImage.com, Frazer Harrison/Getty Images
UPDATE: Not only is he not dating the current Miss USA, but it looks like Doug Reinhardt isn't dating 2009 Miss USA Kristen Dalton, either. Dalton tells E! she has never been romantically involved with Reinhardt and their contact was purely for business purposes.
"Doug and I were only talking professionally," says Dalton. "I am with Reid [Rosenthal] and we are very serious about each other."
Dalton says she spoke with Reinhardt on the phone about possible hosting gigs and Rosenthal was aware of the conversations and that they were strictly business related.
________
Stop the presses!
As if the whole pole-dancing pics thing wasn't scandalous enough, now Miss USA Rima Fakih is being linked to one of Paris Hilton's ex-boyfriends.