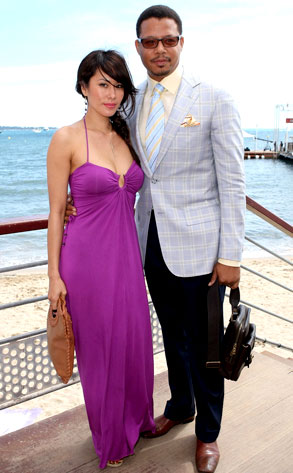 Fame Pictures
When we talked to Terrence Howard a few days ago at the Cannes Film Festival to get his thoughts on Iron Man 2, we tweeted a photo of him and his lovely lady friend. Little did we know at the time, but that's the new Mrs. Howard.
Yes, the 41-year-old Hustle & Flow sta rhas given marriage another shot, secretly tying the the knot with Michelle Ghent-Howard, 33, in a private Los Angeles ceremony back in January.
Howard broke the news to CNN's Anderson Cooper earlier this week while making the promo rounds for Winnie, a biopic in which he plays Nelson Mandela opposite Jennifer Hudson's Winnie Mandela.
"To come here and be with my wife, it's the best feeling in the world," said the actor.