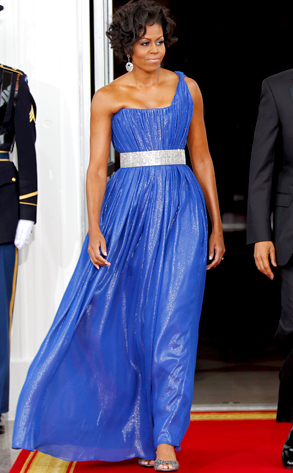 AP Photo/Pablo Martinez Monsivais
Was last night's event at the White House a state dinner or the Oscars?
Because it was one pretty parade of Hollywood glitz 'n' glamour, lead by fabulous first lady Michelle Obama.
Guests like Beyoncé, Eva Longoria Parker, Whoopi Goldberg and Oprah Winfrey filed through in gorgeous couture. (Check out B bringing her A-game. Fierce!)
And Mrs. O. was stunning, natch, in a bright-blue, single-shoulder Peter Soronen gown (he's the same designer who created this dazzling gown, remember?), matching makeup, silver heels and a curly 'do.
Chalk it up as another stylish night for the first lady of fashion.