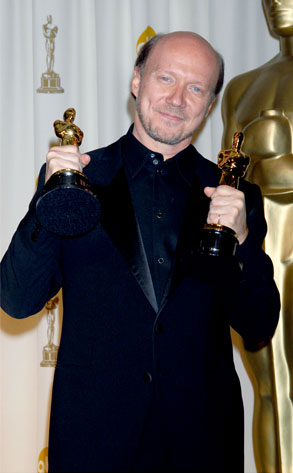 AP Photo/ Jennifer Graylock
Look who's crashing Cannes.
Paul Haggis, the Oscar-winning scribe behind Clint Eastwood's 2004 boxing drama-turned-esteemed director after winning Best Picture for Crash the following year, turned up on the Croisette tonight to help host an all-star charity gala he organized. The goal: raise money to benefit Haitian children left devastated by January's earthquake.
Robin Hood star Russell Crowe co-emceed the event, which was organized by Haggis' nonprofit, Artists for Peace and Justice. Also in attendance was actor James Franco, in town to promote Howl, his biopic on beat poet Allen Ginsberg; fellow helmer Doug Liman, whose Fair Game with Sean Penn and Naomi Watts is screening in competition; and hip-hop star Timbaland, who gave a special performance.
"After the earthquake we started raising money. Now we're building the first high school in the slums," Haggis tells E! News, noting the number of celebrity pals he's teamed up with to help see the mission through. "We actually flew down with Sean [Penn] on his first trip. He's doing amazing work. He's taking care of 75,000 people down there."
Now what about Bond you may ask?