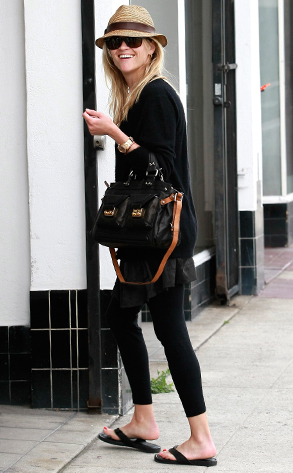 Flynet Pictures
Dear Ted:
Why is it that every time Jake G. or Ryan P. have anything to promote or do an interview, the very private Reese Witherspoon goes shopping in the middle of the Hollywood paparazzi zone? Who does she think she is fooling?
—JSC
Dear Jokes on Reese:
Who does she think she's fooling? Everybody. Who is she fooling? Not a whole lot of people, but Reese knows how to work the tabloids and keep her name in the headlines (think Angelina Jolie of the America's Sweetheart club).
Dear Ted:
I just had to put my Boston terrier, Paco, to sleep after 13 wonderful years, so I'm counting on you to rescue me from my glumness. I have recently become a huge fan of Peter Facinelli because of Nurse Jackie. I saw some pics of him and his wife in the premiere of Letters to Juliet, and Jennie looked utterly miserable (and like a hot mess, might I add). Is there something going on there? Or was it just an off day? I really hope it's the latter.
—Kisses from Miami
Dear Trouble in Paradise:
First off, so sorry about Paco. Margo threw up this morning and I could barely handle that. I'll say a prayer for both you and poor Paco. But a question about a Twi couple that isn't Robsten? Blasphemy! Look, I wouldn't worry too much; P.F. and wifey are happy, but don't forget Jennie is also a full-time mommy to a pack of kiddos and she has a career also, thank you very much, which may explain her sometimes frazzled looks.
Dear Ted:
Is Chet Chick-Muncher Rob Lowe?
—Anne