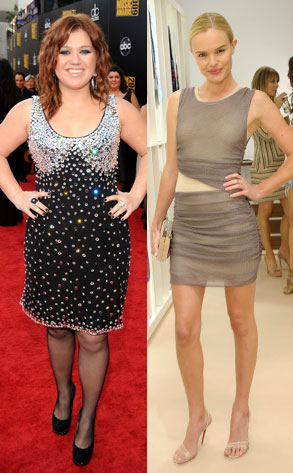 Kevin Mazur/WireImage.com, Stefanie Keenan/WireImage.com
Dear Ted:
You recently responded that it was OK for Kelly Clarkson to be the current weight she is. I agree with you. However, I deem it hypocritical of you to say so when you are one of the first bloggers to start speculating that a starlet is getting too thin. Why not comment on someone becoming too fat, too? If you feel one is bad, so is the other. The double standard is not fair. Being too fat or being too skinny is a choice to be made by each individual but both can be equally unhealthy.
—WD
Dear Weight Watchers:
Big difference though, babe. Chicks like Kelly are healthy, whereas the ladies I call out for slimming down extra quick are doing so purposely and usually not by the healthiest ways (let's just say they aren't shedding the pounds by watching their calorie intake). And in H'wood more girls are trying to become dangerously skinny than plump up. But I hear ya just the same. Point taken.
Dear Ted:
I'm the mom of one adorable daughter and two rescue kitties. I am also a huge fan of your Blind Vice column. I was wondering is Jackie Bouffant James Franco? I've seen pictures of him from a recent film festival and yikes! He had to be on something! Could you give me a hint? Thanks!
—B in Cincinnati
Dear J2:
Close babe, but James isn't Jackie. J.F. has a Vice all of his own, though, any guesses what it is?
Dear Ted:
When has "coming out" become such a spectacle? I mean noncelebrities come out everyday without a PR machine. Why can't it be that simple. Also, what's is with Halle Berry playing up to the paparazzi after her breakup? It's all so strange.
—D