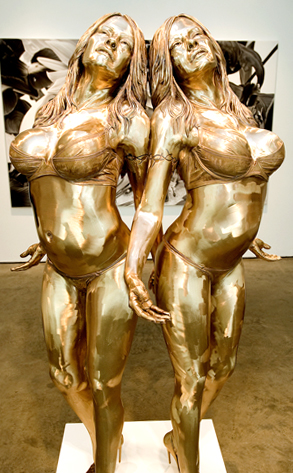 Samir Hussein/Getty Images
Borat may want to redecorate his home.
Pamela Anderson's assets have been immortalized in bronze—not once, but twice! Really, who needs a mirror-ball trophy when you could have a quartet of golden (cough) mirror balls?
Artist Marc Quinn built the pair of shiny, open-armed Baywatch babes for his show about people who've transformed themselves. The collection also features depictions of Michael Jackson and the pregnant man, people he describes as having "decided to change the outside of their bodies to fit how they feel inside," according to the U.K.'s Coventry Telegraph.
The exhibit, titled Marc Quinn: Allanah, Buck, Catman, Michael, Pamela & Thomas, debuted Thursday in London.
No word on how the pair of Pams can manage the cha-cha.