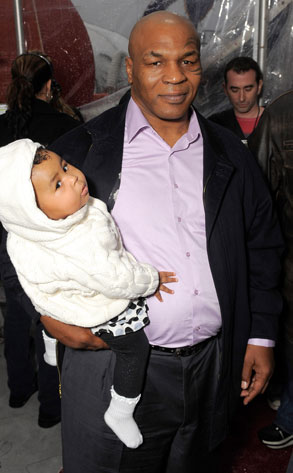 Todd Williamson/Getty Images
This round goes to Mike Tyson.
The Los Angeles City Attorney's Office will not be pressing battery charges against the ex-con heavyweight in connection with his Nov. 11 dustup with a paparazzo at LAX.
"We did a full and thorough review of the case and determined there wasn't sufficient evidence to file charges against either party," office spokesman Frank Mateljan tells E! News. "No further action is anticipated."
A fair and obvious choice, according to Tyson's lawyer.
"The City Attorney's Office made the right decision," said attorney Shawn Chapman Holley, "given the harrassing conduct of the paparazzo who persisted in his aggressive pursuit of Mr. Tyson, even after being ordered by airport security personnel to leave him alone. The City Attorney's decision today is a small victory for those who continue to be harrassed, annoyed and even stalked by the paparazzi."
Both Tyson and the shutterbug were arrested last month, allegedly after the pap trailed the ex-boxer and his family from one terminal to another while they were in search of lost luggage following a flight from London.