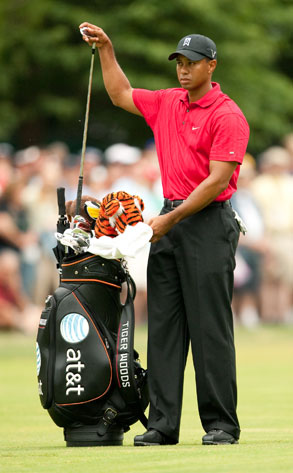 Darren Carroll/Getty Images
Someone over at AT&T finally realized that a man made infamous for his marriage- and career-decimating naughty text messages may not be the best person to front your cell phone service plans.
As a result, the communications giant has become the third sponsor to sever all ties with Tiger Woods, adding to a list that already includes Accenture and Gillette.
Not exactly the best news with which to ring in the New Year.
No official explanation was given by the company for their withdrawal of support, though, to be honest, no official explanation is necessary at this point. But if it's a reason Tiger's after, we can think of about 12 billion of them.
Among other things, the business split means that when—and if—Tiger returns to the green, he'll be doing so with some new gear. AT&T's logo has long graced the side of Woods' golf bag and the company has been the title sponsor of an annual PGA tournament that Woods hosts. And Jessica Simpson gets invited to.
OK, that last one might not be such a loss.