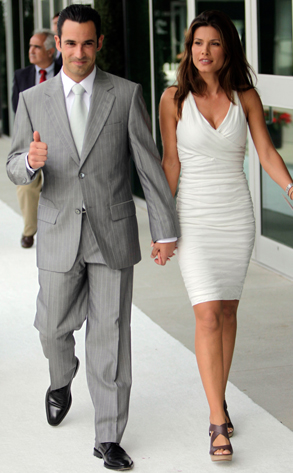 AP Photo/AJ Mast
Hélio Castroneves is dancing for joy.
The former Indy 500 champ and Dancing With the Stars winner has officially crossed the finish line into fatherhood as he and gal-pal Adriana Henao celebrated the arrival of daughter Mikaella Monday in Atlanta.
A rep for the 34-year-old Castroneves confirmed to Entertainment Tonight that Henao gave birth at about 4:15 p.m., a full week ahead of schedule as she was originally due Jan. 6.
Consider it a belated Christmas present.
The little bundle of joy weighed in at 7 pounds, 3 ounces and measured 19 inches long. It's the couple's first child.
Castroneves, who was acquitted back in April of tax evasion charges, went on to earn his third career victory at the Indy 500 in May. He and Henao told TV Guide they originally thought of naming their daughter Indy before deciding to scrap the idea, saying it was "a little too much."
Guess Danica was out of the running too.