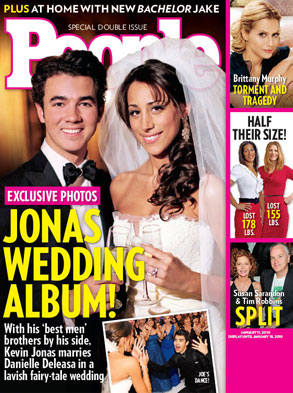 People
So we all know Kevin Jonas and Danielle Deleasa are married and honeymooning in Mexico, which is supercool for them and all, but we want wedding pictures!
People has the first look at the photos in this week's issue, and the mag also features Kev describing his very Disney wedding.
The ceremony was not only in a castle but there was also an enchanted forest and special footwear for his bride. "I knew that my princess needed her glass slippers and her castle," he said of his new missus, whom he calls his "Jersey Girl." That's Princess Jersey Girl to the rest of us.
She kept the Disney theme going by walking down the aisle to "Bella Notte," from Lady and the Tramp, and getting her first People cover (every modern-day princess's dream).
The issue hits newsstands Dec. 30 and will hopefully feature lot of photos of Nick in his best-man attire.