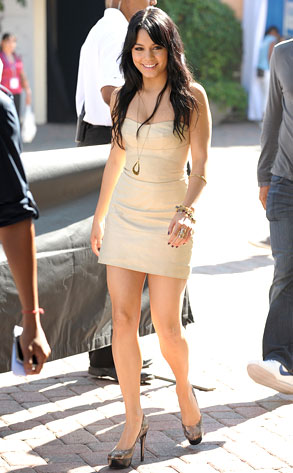 Jordan Strauss/Getty Images
Safe to say that Mickey Mouse would definitely not approve.
Hoping to keep her private parts private, Vanessa Hudgens is suing the owners of a website for posting her naked self portaits.
The Disneyfied starlet has gone to federal court in Los Angeles to ask a judge to order moejackson.com to remove her widely disseminated cell-phone images immediately. The High School Musical star is also seeking unspecified damages.
Hudgens has also taken the step of registering her pics with the U.S. Copyright Office.
"The photos were obtained by unknown methods and posted on the Internet by an unknown person without Hudgens' knowledge or consent," her suit states. The images first surfaced right before the premiere of bomb Bandslam last August.
A fully clothed Hudgens was most recently spotted last week in Los Angeles, as boyfriend Zac Effon threw her a surprise 21st birthday party.