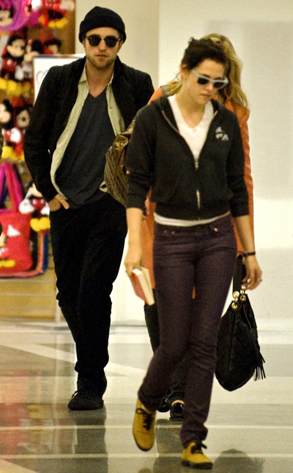 nationalphotogroup.com
Dear Ted:
Love you! But on to my comment: Why can't people just let Robsten do their thing? I know that I'm just playing in to the craziness by writing in, but if going out with friends and being in a relationship are mutually exclusive then god help us all. They don't have to be attached at the hip to be happy. I'd love to so closely scrutinize some of your reader's relationships and see how they fare.
—A
Dear Space Issues:
Agreed. Seems like Rob and Kristen know that, too—why do you think they've been able to do their thing for so long? It's so not pressure filled like a lot of people make it out to be. I'm even jealous of their chill relaysh!
Dear Ted:
According to the police report, "foul play is not suspected" in the death of Brittany Murphy. I think that depends on one's definition! They apparently found nearly a dozen prescription drugs in her nightstand. Amazing that after the death of Michael Jackson at the hands of his enablers (more than one) wouldn't you think people around her would have gotten a clue? Are people in Hollywood not capable of getting 2 + 2? Thanks for your strong stand against this insanity. Does Morgan Mayhem read your column?
—Bob NYC
Dear Add it Up:
Darling, Hollywood is a spiral of debauchery. The stuff that goes on in this town doesn't even shock me anymore. I don't know when over the counter drugs started to make a big appearance in this town, but they show no signs of going anywhere. It's so easy to get a bottle of whatever you want, it's crazy. In order to put a stop to this it needs to reach higher powers than this blolum, darling. And not sure if MM is an avid reader, sure she comes across it. Whenever she's not pilled out and can read, that is.
Dear Ted:
Love the blog, check for my Robsten updates all of the time. Just getting into the BV stuff though. My guess for Nelly Fang is Jamie Campbell Bower. He's got that bad boy appeal going and I don't get the feeling that he and his "girlfriend" are much more than "friends." They just don't have that spark like my favorite vampire couple.
—Kristy